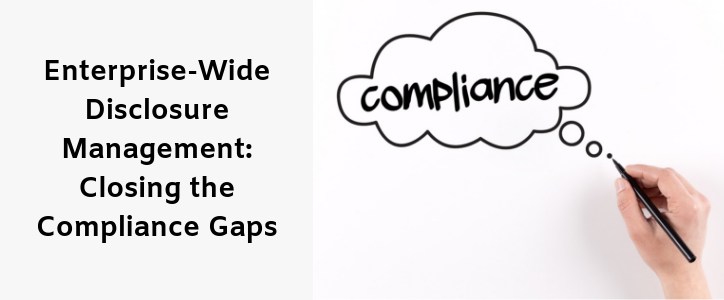 On June 27, 2019, MRO presented a webinar as part of our Protected Health Information (PHI) disclosure management educational series. In this presentation titled "Enterprise-Wide Disclosure Management: Closing the Compliance Gaps," we covered best practices for standardizing PHI disclosure management policies and procedures, ensuring consistent policy enforcement, and minimizing privacy breach.
The webinar content can be used as a guide for Health Information Management (HIM), privacy and compliance professionals to ensure the highest levels of compliance and prevent breach when disclosing PHI.
PHI Disclosure Management: Risky Business
MRO's research shows there can be as many as 40 disclosure points across a health system. Most of these disclosure points tend to be managed outside the HIM department by individuals not trained in Release of Information (ROI). This trend of expanding disclosure points is one of the key factors driving breach risk in the ROI process.
Another risk factor involves gaps in the Quality Assurance (QA) around PHI disclosure. Research shows that approximately 30 percent of all ROI authorizations are initially invalid, and up to 10 percent of those invalid authorizations are processed with errors if ROI workflows lack redundant QA checks. Moreover, some 5 percent of patient data in electronic medical records (EMRs) have integrity issues, including comingled patient records. Without proper QA measures in place, about 0.4 percent of records released will contain mixed patient data, which means an organization releasing 100,000 requests annually could potentially release 400 comingled records. With that, comes substantial risk to a healthcare organization.
Enterprise-Wide Disclosure Management: Closing the Compliance Gaps
As described in the webinar, MRO recommends deploying an enterprise-wide strategy for PHI disclosure management to standardize policies and procedures, as well as technologies, across a health system. Having a streamlined ROI workflow as part of that strategy helps eliminate inefficiencies, distractions and errors.
Additionally, redundant QA checks are vital for disclosure accuracy. Providing a "second set of eyes" on all authorizations and PHI before release helps reduce improper disclosures. These quality checks should come from a combination of trained ROI specialists and record integrity technology, such as MRO's IdentiScan®, that uses optical character recognition to locate and correct comingled records. This combination of people and technology drives improved accuracy and minimizes breach risk.
Breach Prevention: Best Practices for PHI Disclosure Management
The webinar includes eight best practices for minimizing breach in the Release of Information process. Here are six of those practices.
Implement Multiple QA Checks on Requests. It is important to ensure the ROI authorization is legitimate. In reviewing authorizations, certain required information is often missing. A Quality Assurance check-in that involves multiple people helps to avoid a one-point area for failure. This double-check process ensures a complete review of that area for control.
Sync Your ROI Platform to the MPI. It's imperative to sync your ROI platform to your MPI to avoid manual information entry. This minimizes the possibility of making a mistake when entering information into your ROI platform. MRO offers a tool called MROeLink® that provides this type of integration.
Send Notifications to Requesters. Sending initial notifications of receipt to requesters confirms that requests have been received and indicates who is processing them on your organization's behalf. If a patient-directed request is obtained, you should notify the patient to let them know a patient-directed request has been received in case they did not direct the request.
Ensure Shipping Integrity. Establish a QA process for shipping copies of medical records, such as a barcoding system that assists distribution center reps in ensuring the right content goes in the correct envelope.
Leverage Secured Delivery. When possible, leverage secure, electronic delivery, including portals and direct interfaces with government agencies such as SSA and CMS.
Hire, Train and Retain Exceptional People. It is essential to hire, train and retain exceptional people who will be touching PHI. These people must be properly trained and knowledgeable about the information they are handling, and understand the penalties involved. People working in the ROI industry must be highly trained and educated.
To get details on all our suggested best practices for breach prevention—and more information on compliant PHI disclosure management—request the playback of the presentation using the form below.