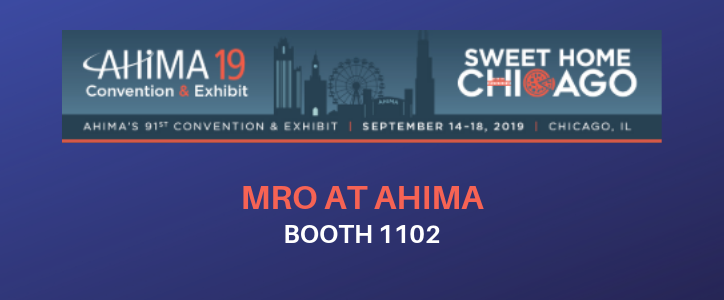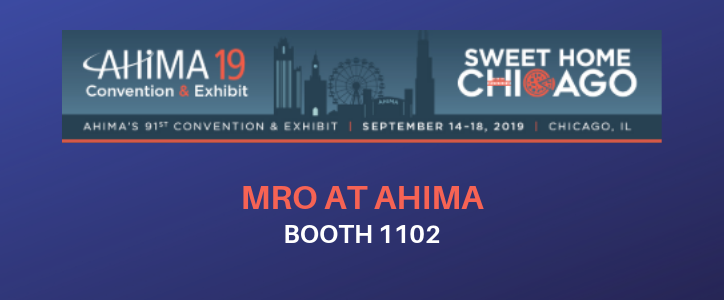 As we approach the 2019 AHIMA Health Data and Information Conference in Chicago, September 14-18, 2019, MRO is excited to exhibit for the 16th year in a row.  We are looking forward to mingling, networking, and spending time with our clients, Health Information Management (HIM) partners and friends. Stop by Booth 1102 to say hello to the team, catch up and learn about MRO's successful ROI solutions.
Our team of ROI experts will be available at the booth to discuss Protected Health Information (PHI) disclosure management topics, including enterprise-wide solutions for ROI, cybersecurity, BA management, payer audit and review strategies, and the compliant management of patient-directed requests.
If you don't make it to the booth, you can take advantage of MRO's experts during the conference at the learning opportunities listed below:
AHIMA's Privacy and Security Institute
Saturday and Sunday, September 14-15
10:30am – 11:45am
Rooms E451A & E353A
MRO is proud to sponsor this year's Institute, and Rita Bowen, MA, RHIA, CHPS, CHPC, SSGB, Vice President of Privacy, Compliance and HIM Policy for MRO, will participate in Sunday's presentation "Assessing Privacy and Security Compliance."
Enterprise-Wide Disclosure Management: Penn Medicine's Journey in Outsourcing Release of Information
Monday, September 16
2:20pm – 3:10pm
Exhibit Hall, HIM Expert Theater Andersonville
Join me and my colleague, Sherine Koshy, MHA, RHIA, CCS, Corporate Director of Health Information Management at Penn Medicine, for this presentation on proven practices for outsourcing Release of Information and successful enterprise-wide implementations.
The Next Big Story: BA Management Tips to Keep Your Organization Out of the Headlines
Monday, September 16
7:30am – 8:30am
Don't miss "The Next Big Story: BA Management Tips to Keep Your Organization Out of the Headlines" given by my fellow teammates and subject matter experts, Rita Bowen and Anthony Murray, MRO's privacy and security officers. This session takes a deeper dive into BA breaches and the effective strategies necessary to mitigate your organization's risk.
Patient-Directed Requests: What's the Elephant in the Room?
Tuesday, September 17
7:30am – 8:30am
Rise and shine!  Let's talk about the elephant in the room. This Networking Breakfast is sponsored by AHIOS and we are honored to co-present on this industry hot topic.  MRO's privacy and legal experts, Rita Bowen and Danielle Wesley, Esq., will discuss and analyze the current trends and challenges around the misuse of patient-directed requests by attorneys and record retrieval companies.  Mark it on your calendar and secure your spot today!
Time to Clear the Confusion: Attorney Misuse of Patient-Directed Record Requests and How to Cope
Wednesday, September 18
9:00am – 9:45am
Can't make it to the breakfast or still want more?  This presentation will be your last chance to listen, learn, or join the discussion on one of the latest threats to one of HIM's core functions – ROI.  Take advantage of time with MRO's privacy and legal experts Rita Bowen and Danielle Wesley, Esq. as they discuss the current landscape on the attorney misuse of patient-directed medical record requests under HITECH. Walk away with tips and recommended practices for your organization to ensure compliance and patient satisfaction.
To schedule time with us, please complete the form on this page. We hope to see you there!