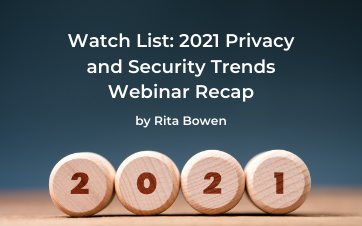 Recently, my colleague Anthony Murray and I presented Watch List: 2021 Privacy and Security Trends as part of the MRO 2020 Webinar Series. During this presentation, we highlighted the key areas of privacy and security within health information management (HIM) that professionals should be aware of during 2021.
First, I discussed the trends we should see in the privacy arena:
HIPAA Notice of Proposed Rulemaking (NPRM)—Since HIPAA has not been updated for many years, it was time to address gaps between the existing HIPAA rule and the new Interoperability rule. Although the NPRM has since been released, there is still time for things to change. Looking ahead, I encourage you to take advantage of our upcoming webinar in March on this specific rule, where I will analyze the details with my colleague Angela Rose.
Patient Right of Access—A new policy change that also came out of gaps within HIPAA was the Patient Right of Access, which allows patients to more easily get their records for themselves or direct them to a third party. An item of note from 2020 was the Ciox v. Azar case, which determined that if the third party is not making healthcare decisions for the patient, then the third party can be charged state rates to get the records. To ensure patients access to their medical records, the Office for Civil Rights (OCR) has cracked down on enforcement of this rule. To put this into perspective, we have seen 14 actions since August of 2020. As this is another hot topic for 2021, I encourage you to attend my upcoming webinar in February on this specific issue.
New Patient Identifier—While this is not a new concept, AHIMA, AHIOS and other associations recently expressed their support for its implementation. Though some people argue that NPIs could threaten patient privacy, we should be on the lookout for this to make some headway in 2021.
Interoperability—We have spoken a lot about this topic in 2020, and it will continue to be a hot topic for 2021. All HIM leaders need to look at their processes and the requirements of the rule in preparation for compliance and enforcement coming in 2021! To find out more and assist in your preparations, visit our 2020 Information Blocking Webinar Series landing page, and stay tuned for more sessions in 2021.
Next, my colleague Anthony Murray discussed security trends for 2021:
COVID-19 Effect—As many of us know, there was a telehealth boom in 2020 due to the pandemic. And because telehealth is likely here to stay, organizations must prepare for updated regulations and guidelines regarding telehealth vulnerabilities, such as breaches. Currently, the OCR is not pursuing breach penalties because we are still considered to be in a national public health emergency. However, that time is ending and we can expect enforcement to resume in 2021. This means that all organizations should make sure their policies and procedures are in place. To ensure your organization is ready, it is critical to complete a risk assessment, document potential risk, and conduct employee education and training. For more telehealth tips and ideas, visit the webinar Anthony and Angela presented in October 2020.
Ransomware—In October 2020 an alert was released regarding the tactics, techniques and procedures used by cybercriminals targeting the healthcare sector to gain access to protected information. These bad actors use ransomware, a form of malware designed to encrypt files on a device, rendering any files and systems unusable. These malicious actors then demand a ransom in exchange for decryption or release of the information. While the exact motive is usually unclear, they typically do it for espionage or financial reasons. Organizations now need insurance to cover a ransomware attack resulting in payment to the bad actors. Once they are paid, they continue to use ransomware to make more money. To prepare your organization, we recommend four steps: establish a plan, run tests, provide education and create a backup plan.
Other 2021 Predictions:

5G networks—While it's a great thing for many individuals, remember that bad actors will also have access to this new and improved network function. As this continues to roll out, security teams should monitor these networks to protect their organizations.
Cybertechnology—AI and machine learning will help us in threat detection, but again, bad actors will also have access to this technology.
As we look forward in 2021, it is imperative that we all stay on top of privacy and security trends by remaining vigilant, compliant and safe in our daily operations. I encourage you to view the recording of this presentation, and stay tuned for many more webinars to come in 2021. Education is essential to preventing any privacy or security mishaps.
To register for the playback recording of our webinar, click here. 
Read More

By Anthony Murray and Christopher Lombardo
October is National Cybersecurity Awareness Month, which was launched in 2004 by the National Cybersecurity Division within the Department of Homeland Security and the nonprofit National Cyber Security Alliance. This year more than ever, cybersecurity is extremely important in keeping individuals and companies safe when online. Protect your online presence this month and beyond by following the tips below.
Connect and Protect
In today's world, the line between our online and offline lives is no longer clear. While this situation creates opportunities, it also creates many challenges for individuals and organizations around the globe. To reduce your security risk, make sure to regularly update your security software, browsers and operating systems. And set up auto-updates for all of your home devices, so they are always up to date.
All internet-connected devices are a possible entry point for a cyber criminal. Therefore, if you connect it, you'll need to protect it. For example, earlier this year Ring doorbells were hacked because updates were not applied and strong passwords were not used. Examples of such devices include GPS/distance trackers, fitness and medical monitors, Wi-Fi enabled baby monitors, home security cameras, climate and lighting control systems, and smart appliances. Though we may not think about some of these things being susceptible to hacking, they are often targeted by cyber criminals. To stay safe, keep your devices up to date, frequently change your password and even update your home network security.
Phishing Awareness
Links in emails, tweets, texts, posts, social media messages and online advertisements are the easiest way for cyber criminals to get your sensitive information. Be wary of clicking on links for downloading anything that comes from a stranger or that you were not expecting. If you receive an enticing offer via email or text, don't be so quick to click on the link. Instead, go directly to the company's website to verify it is legitimate. If you're unsure who an email is from, even if the details appear accurate, do not respond and do not click on any links.
Follow your gut. If it doesn't look right—the message is too good to be true, for example—trust your instincts.
Is the message directly aimed at you? What does the salutation say? Could it be sent to anyone? Of course, knowing your name isn't always a sign that an email sender can be trusted, but not knowing is a good starting point.
What are they requesting? Spoofed emails are finely crafted to trick you into giving up your login information for important sites, like your bank account. Have a level of distrust and don't blindly click a link to log in to important accounts without verifying the URL is correct.
Are they trying to scare you? This is a favorite tactic for hackers. Maybe they're telling you your account has been breached, or a payment was rejected. They want you to take action without thinking. Don't be fooled. Take a moment and think things through.
How's their spelling? Yes, the bad guys are getting better with grammar, but poorly written messages are still a sign something is phishy.
Securing Devices
2020 saw a major disruption in the way many people work, learn and socialize online. Our homes and businesses are more connected than ever. With more people now working from home, these two internet-connected environments are colliding on a scale we've never seen before, introducing a whole new set of potential vulnerabilities that users must be conscious of. Week 2 of Cybersecurity Awareness Month will focus on steps users and organizations can take to protect internet-connected devices for both personal and professional use.
Passwords
P@s$w0rds_d0n't_hav3_2_b_th!s_Complic@teD! Seriously, who can remember that? Make your password a passphrase. Remember that length trumps complexity when creating a strong passphrase.
When it comes to passphrases, it's best to mix it up. Keep them long, easy to remember and unique for each account.
No matter how long and strong your passphrase is, a breach is always possible. Make it harder for cyber criminals to access your account by enabling multi-factor authentication.
Applications
Do all of your apps need to track your location? No! Take a moment now to configure the privacy and security settings of your apps and, while you're at it, help someone in your household configure theirs.
Do you know how many of your apps access your contacts, photos and location data? Time to find out! Configure your privacy and security settings to limit how much data you give away.
Enable automatic app updates in your device settings so your software runs smoothly and you stay protected against cyber threats. Don't ignore a software update. It can be what protects you from a cyber criminal.
Keep all software on all internet-connecting devices current. This improves the performance of the devices and your security.
Rules for keeping tabs on your apps: 1) Delete apps you don't need or no longer use. 2) Review app permissions. Limit how much data you share with the app. 3) Only download apps from trusted sources.
Social Media
There are few people today who don't have a social media presence. Cyber criminals know that, and they especially love it when you overshare on social media. They can learn all about you! Be cyber smart and make it harder for them by avoiding posting real names, places you frequent, and your home, school and work locations. Keep Social Security numbers, account numbers and passwords private, as well as specific information about yourself including your full name, address, birthday and even vacation plans. Disable location services that allow anyone to see where you are—and where you aren't—at any given time. Connect only with people you trust. While some social networks might seem safer for connecting because of the limited personal information shared through them, limit your connections to people you know and trust. Remember, there is no delete button on the internet. Share with care, because even if you delete a post or picture from your profile seconds after posting it, chances are someone may have seen it.
Disinformation
We live in a world of facts and information that we use to form our opinions and make decisions. Sometimes those facts are incorrect, and we make poor decisions. But what if the information we receive is maliciously created to be incorrect?
Disinformation campaigns aren't limited to individual victims and are often created by sophisticated groups. Organizations are often targeted, resulting in great harm. Here are three reasons why:
Damage to reputation: Some attacks are intended to damage an organization's reputation and create ill will with its customers.
Financial gain: Some attacks are created to allow the scammer to profit financially. One example is known as a "pump and dump," where false press releases and social media are used to promote a company and pump up its stock value. Then the scammer sells, or dumps, the stock for a large gain.
Destroying public confidence: Some attacks are carried out by foreign actors, countries and individuals, looking to harm organizations in other countries and drive customers to competitors that they prefer.
How do hackers pull off disinformation?
Bots: Bots, short for computer "robots," are software programs that can perform automated tasks and can mimic typical online human actions, such as making, liking and sharing social media posts. Computers infected with malicious bots can be used to spread disinformation and inflate the popularity of selected posts and items.
Deepfakes: Deepfakes are audio files, videos or photos that have been tampered with to look and sound like something they are not.
Targeting: Targeting takes all of the information available about you and makes predictions about disinformation you might be receptive to.
Trolls: Trolls are Individuals who deliberately say false things online to cause negative reactions, create controversy and ruin reputations.
This year, more than ever before, cybersecurity has played an integral part in the daily lives of many people. And though National Cybersecurity Awareness Month is observed during October, the advice provided here can and should be used all year round. Thought leaders are constantly publishing new best practices to keep you safe at home personally and professionally. As we continue to live in a virtual world, cybersecurity should always be top of mind.
I encourage you to register for our upcoming webinar, presented by myself and my colleague, Angela Rose, Security in a Virtual Environment: Protecting Your Workforce at Home.
Read More
As we approach AHIMA20, MRO is excited to participate as an exhibitor for the first ever virtual conference. While the 2020 event looks very different from those in previous years, MRO's industry experts are ready to meet with the health information management (HIM) professionals virtually attending this year. If you are not attending but want to learn more from our experts, we will be available to meet during the conference days.
Health Information Management Current Event Topics
During virtual exhibit hall hours, members of MRO's leadership will be available for virtual meetings to discuss various HIM current events, including the following topics:
Business Office
Privacy and Compliance
Remote Workforce Operations
Health Information Management Presentations
If you're looking for an educational session with our experts, attend these presentations:
Guide to Protecting Patient Data in the EHR
Rita Bowen, MA, RHIA, CHPS, CHPC, SSGB, VP of Privacy, Compliance and HIM Policy, MRO
Greg Ford, Associate VP of Requester Relations, MRO
Friday, October 16, 2020 at 2:55 pm central time
Rita and Greg will explore the challenges and responsibilities for health information management in sharing patient data. They will highlight both benefits and disadvantages of process management and identify key stakeholders and their responsibilities in safeguarding PHI from inappropriate collection and use from payers.
Collaborating for Efficiency: Proven Methods to Improve Workflow, Reduce Costs and Mitigate Risk in the Revenue Cycle
Dawn Crump, MA, SSBB, CHC, Senior Director Revenue Cycle Solutions, MRO
Lauren Wall, RHIT, HIM Manager of Shared Services, Steward Healthcare
Thursday, October 15, 2020 at 8:30 am central time
Dawn and Lauren will summarize lessons learned from real-world experiences that bridge communication gaps and integrate functionalities within the revenue cycle, business office and HIM. Attendees receive valuable tips to improve workflow, reduce cost and mitigate risk, resulting in positive financial outcomes for healthcare organizations.
Meet MRO at AHIMA
MRO has been exhibiting at AHIMA every year since 2004. During this first ever virtual event, we are looking forward to learning about industry trends from fellow thought leaders and being able to virtually interact with all our clients and friends. We hope to see you (virtually) there!
To schedule a meeting with our industry experts, visit our AHIMA20 site, here.
Read More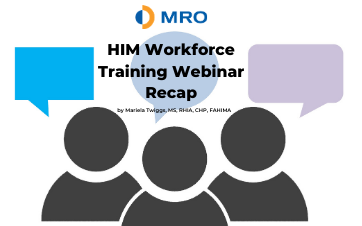 As part of the MRO webinar series this year, I recently presented HIM Workforce Training: Developing an Engaged Team. During this presentation, I discussed best practices for training and retaining your employees based on the evolving health information management (HIM) landscape which demands new skill sets and coping with the new normal for the workforce.
Health Information Management: New Hire Checklist
Since the first step of an employee's journey with a company is the onboarding process, using a new-hire checklist is critical. This document should include facility orientation topics, a job description, policies and procedures, systems, and any important forms. Other areas of consideration throughout the employee's entire journey with the company are HIPAA, compliance, customer service, department functions and record lifecycles.
Lesson Plans Through Video and Slides
Creating lesson plans based on specific employee roles is an easy way to stay organized and keep a record of what employees are learning. For example, a lesson plan on "The Medical Record" designed to cover topics such as encounters, common documents, corrections and amendments, confidentiality and legal issues, and legal health record versus designated record set can be a good start for an overview of HIM topics. Switching it up with slides, documents, and videos across categories helps to keep the employees engaged and interested in the content. When confronted with a decision about how to teach a topic, always choose a video because people enjoy them the most. Also, don't forget to quiz your employees along the way to make sure they retain what they are learning.
Training Video Content on HIM and ROI
I encourage you and your staff members to create your own videos. If you have an employee expert on a topic, engage them to produce a video for you. It engages the team and they will feel connected through their coworker. Other organizations, such as OCR and AHIOS, provide excellent video content. It's a good idea to continually check such sites for updated training videos that you can use for your own workforce. Many videos covering HIM topics, especially customer service, are available on YouTube.
Create Relatable Stories for More Memorable Lessons
When teaching employees about important topics, telling a story that is easily remembered can be helpful. For example, to drive the point about HIPAA and confidentiality, talk about finding out your neighbor had a baby. If your neighbor's husband tells you she had a baby, you can tell the world, because her husband told you directly. If you find out your neighbor had a baby because you see her name on the hospital admissions list, then you cannot share that information because you learned it through your job, making it confidential per HIPAA. I find that employees are more likely to remember a simple yet impactful story.
Mixing up the trainings with games, quizzes, and anything fun is a good way to engage employees to enjoy learning. For example, have employees play a security game where a hacker is trying to get to an unsecured computer before they do, or perhaps play HIPAA Jeopardy.
Stronger Training Programs for Stronger Future Leaders
As employees continue to work for your organization, it is important to create training programs that further develop their skills. These programs will vary depending on specific job functions. Create plans, especially leadership development plans, to grow your future leaders.
During the webinar presentation, I provided valuable videos and resources that can be used for employee development and engagement activities. To get the most from these valuable resources, I encourage you to request the playback along with the slides.
To learn more about developing an engaged workforce, complete the form below to request playback.
Request webinar playback for HIM Workforce Training: Developing an Engaged Team
Read More