At MRO, our employees are the cornerstone of our success, and we take pride in the dedication and contribution each team member makes to ensure client satisfaction. MRO's employees have shared the reasons they love working here, which include: the company's reputation, diversity, advancement opportunities, training and motivational program, great manager, flex scheduling and benefits. Take a look at what some of our exceptional employees have to say. 
MRO's culture and core values have made my decision to grow with the company simple. Each position/department at MRO will teach you an invaluable lesson to help you evolve in your professional career. MRO's employees are passionate, dedicated, and share the same value of teamwork. I am fortunate to be able to empower the MRO Requester Services department by supporting their careers and cultivate the future leaders of MRO.
Erin Thornton
Director of Requester Services
I love working at MRO, every day I have the ability to make a difference in a patient's life. I also have the pleasure of speaking with callers and providing them assistance in obtaining copies of medical records. My favorite thing about working at MRO is the people I work with in my department and in surrounding departments. Everyone is so friendly and welcoming. The management team here at MRO truly cares about us. They are always available to help in any way possible, they definitely make us feel appreciated. I am proud to be a part of such a great team and company.
Tiffany Graham
Patient Advocate of Requester Services
Learn more about the MRO culture and why clients chose to stay with us.
MRO's centralized User Support team provides an additional layer of workflow and compliance oversight, issue resolution and personalized care, with an emphasis on Quality Assurance (QA). By providing reinforced system and workflow training to clients, as well as internal stakeholders, this team ensures the highest level of patient satisfaction while maintaining compliance and efficiency.
I have very high praise for the management team here at MRO. One of the things that stood out to me early on was the recognition given to employees for hard work on a consistent basis. Dedication and consistency are highly valued here, and it is definitely refreshing to hear you're doing your job well. Aside from appreciation, communication is also a priority. Management ensures every idea and every decision is heard by the employees. They not only keep us informed, but they reach out to us for insights as well. They value our opinions. I feel as though I actually play a key role in the changes made, and also a role in the growth of the company as a whole. A healthy relationship with management is essential to the environment of a workplace, and MRO takes pride in that.
Jamal Todd
Senior User Support Administrator
At MRO, there is the daily ability I am given to help someone who may be going through a rough time in understanding how to obtain medical records. In my role, I am also able to make Release of Information (ROI) processing simpler by providing training over the phone, and I enjoy the added opportunity to develop relationships with the clients we serve. Additionally, the growth of MRO and all the opportunities that come with that are very exciting. I think, though, what I like best about working with MRO are the people I work with.
Michelle Myler
Manager of User Support
MRO has been voted as a Top Workplace in the United States for 2023.
The Remote ROI Services team provides logging and release services from our National Service Center, freeing up physical space for patient-facing functions and centralizing Release of Information (ROI) management. This team is trained to access 16 different electronic medical records (EMR) in support of the HIM, business office and radiology departments, with additional systems continuously added based on client needs.
My favorite part of my job is learning and understanding each facility's system. I enjoy learning new things and challenging myself. I also enjoy helping others with training and creating more efficient ways to do the work. It's a very good feeling to work in a fast-growing company. We have expanded tremendously since I started here. Another area I like about MRO is the personal time off policy. I find it very generous and management has been flexible and understanding with my needs. The environment is great, and our new and modern office is a big plus.
Fernanda Correa-Thom
Remote Services Administrator
Every member of MRO's management team, including the CEO, is very approachable. When I first started, I was quite nervous about having to learn everything for the position, but I quickly understood that there is a great deal of training and a large number of people to ask questions. MRO truly cares about their employees. I have an advanced eye sight issue, and on the first day of my second week with the company, management brought in a brand new extra-large monitor for me without me asking for the accommodation. Overall, MRO is a great employment opportunity. MRO has achieved many awards and it is easy to see why. We have great technology to support our clients and staff and great management to help us achieve our goals.
Keith Suttle
Remote Services Administrator
What I enjoy most about working at MRO is the team-oriented culture. It's nice knowing you can approach any member of your team with a problem. Without hesitation, they will help you find a resolution to any given issue. We can all lean on each other to ensure our goals are met in a timely manner. This is an encouraging environment and that's a key reason I look forward to coming into work each day.
Bret Galbreth
Remote Services Administrator
One of the best things I like about MRO is the close-knit feeling you get from the company. Although it is rapidly growing in size, everyone is still very connected. I like the way the different departments interact when need be. Since we spend a great deal of time at our computers, hard at work, I really enjoy the simple things that add character to the office like cubical decorating contests and random email trivia that come around from time to time. I feel as though MRO does a very good job at showing recognition to those employees that work hard and go above and beyond.
Ariel Box
Manager of Remote Services
Learn more about our National Service Center and how our technology-driven workflow assists our teams in processing requests.
MRO's Disclosure Integrity and Distribution team provides the highest levels of quality when disseminating PHI, including multiple layers of quality checks, so clients can be confident they are HIPAA-compliant. This team is essential to ensuring that the right information gets to the right person.
Coming from a retail management background, I enjoy MRO's fast paced environment and nurturing culture full of challenges and learning opportunities. Everyone has been welcoming of questions and supportive in my desire to grow within the company. Our team in Disclosure Integrity is comprised of an astounding group of hard working individuals who continuously strive towards accuracy and efficiency, ensuring the highest possible compliance standards are met. In the short time since joining the MRO team in 2016, I have experienced both the growth and potential the company offers and promotes. Above all, my favorite part of the company is the people who make it all possible! I truly look forward to a long and fulfilling career here at MRO.
Danielle Dougherty
Director of ROI Administration
I enjoy being part of a hard-working team here at MRO. Everyone is vital in assuring that this intricate process gets done efficiently. Although we all have specific roles, communication and teamwork are the main reasons why our process works so well. I enjoy that management allows everyone here to have a voice. They are willing to listen to ideas or suggestions no matter what level that individual is at.
Zachary Glessner
Quality Control Coordinator
What I enjoy most about working at MRO is the endless knowledge you gain. In an industry that is fast paced and ever-changing, there is so much to learn and grow from. The people here at the National Service Center make coming to work every day a pleasurable experience. In my role, I enjoy sharing the knowledge that I have gained over the last year with people who are just starting their careers with MRO. Our management staff is always asking for our opinions and giving positive feedback. Nothing big or small goes unnoticed by management, and working hard really does pay off. I am happy to call myself a part of this team and cannot wait to see what the future holds.
Kimberly Hunter
Assigning Integrity Coordinator
The possibilities within MRO are endless. It's truly a thriving company where anyone who is passionate can seek opportunity. I have been with MRO for three years and have received multiple promotions. This is attributable to my hard work, but also the company's training, development and mentorship. MRO is dedicated to its employees and provides an excellent environment where opportunities are boundless.
Daniel Yoo
Manager of Disclosure Integrity
MRO has been named Best in KLAS for the Release of Information (ROI) services market segment in the Best in KLAS: Software and Professional Services Report for nine consecutive years, since 2013.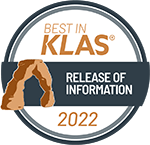 The Staffed ROI Services team is on the frontline at client sites day in and day out. MRO hires this team to work directly at staffed client sites and are ultimately responsible for handling all ROI requests. The team is also supported by the National Service Center and the teams that operate there, in order to fully execute the ROI workflow.
The best part about working for MRO is the internal growth I have experienced. With our online training tool, MRO Academy, leadership development, and having learned smart business decision making through my Director of Client Operations and Vice President of Operations, I confidently welcome increased responsibilities and enjoy sharing my knowledge with others. MRO gives me the opportunity to put my fingerprint on local and companywide projects. As the company grows, I am engaged, challenged and able to create great results alongside some of the best people in the business.
Brandy Garrett
Regional Operations Manager – MO, OH, KY, MN, WV, IL
I love the fact that MRO provides constant training and updating of HIPAA regulations to help me and my team members perform better. MRO also gives us customer service tips to help us maintain a very great relationship with our clients and patients. As an ROI Specialist for over seven years, I take pride in what I do and my goal is to grow in this company and continue providing excellent service. Also, I love the idea of having flexibility to transfer to another state to work.
TracyAnn Bremmer
ROI Specialist – Bronx, NY
Currently, my role at MRO is Senior Release of Information Specialist at Spectrum Health in Grand Rapids, Michigan. Prior to this, I was an independent full service ROI specialist at Crittenton Hospital Medical Center in Rochester, Michigan. There are many aspects of my new role that are both challenging and rewarding. While at Crittenton, I enjoyed interacting with patients and knowing I made the task of requesting PHI easier for them. The motto I adopted is humanize the request. We may not have the ability to fix a broken bone or stitch a wound, but we can make the process of releasing and transferring PHI less painful for the patient. My career in HIM began in 1989 as a high school co-op student. I have performed multiple duties along the way, filing, analyzing, coding, and releasing information. The evolution from paper records to EMRs brought many challenges to this profession, and I continue to be impressed with MRO's technological enhancements. MRO provides a good fit for the independent worker, as well as those who like to be part of a team. Since day one, I have felt this company strives not only to see employees succeed, but also to advance.
Ann Simpson
Area Manager – Grand Rapids, MI
MRO is always providing training and helpful tools to help us succeed in making sure we are the absolute best at what we do. Personally, I had little training in HIPAA when I first came to MRO, and with the help of my manager and team, I quickly felt 100% comfortable in ROI. Also, everyone at our National Service Center is always so helpful. MRO is a wonderful company to work for and I'm so glad to be a part of it!
Elizabeth Dunlap
ROI Specialist – Tulsa, OK
Learn more about the MRO's senior management team.