Fast-growing health information technology company finds a new home
KING OF PRUSSIA, Pa.
– October 6, 2015 –
MRO,
a leader in secure, compliant and efficient exchange of Protected Health Information (PHI), announced today that its corporate headquarters and national service center are moving to a larger facility in Norristown, PA, just moments away from Valley Forge National Historic Park. The company is currently located in King of Prussia, PA.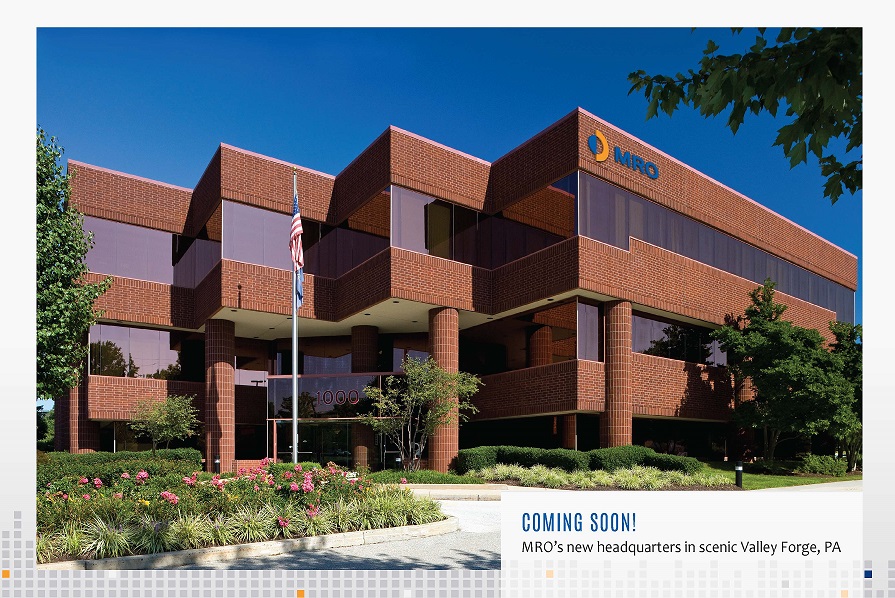 Operations will commence in the new location on October 26, 2015. The new building will have resources to support the growing company including twice the floor space, a phone system with updated performance and features and a nurturing environment for the expanding workforce. This office is located at 1000 Madison Avenue, Suite 100, Norristown, PA 19403.
"These are exciting times for MRO and our client partners," says Mike Reilly, vice president of client and requester services for MRO. "We're in a unique position to continue growing both our national footprint and our capabilities. Our new facility is going to allow us to support that growth with the highest levels of quality and service."
In August 2015, Inc. magazine today ranked MRO No. 3290 on its 34th annual Inc. 5000, an exclusive ranking of the nation's fastest-growing private companies. Over a three year period, MRO's revenue grew 102 percent and 271 jobs were created.
About MRO
MRO empowers healthcare organizations with proven, enterprise-wide solutions for the secure, compliant and efficient exchange of Protected Health Information (PHI). These solutions include a suite of PHI disclosure management services comprised of release of information, government and commercial payer audit management and accounting of disclosures. MRO's technology-driven services reduce the risk of improper disclosure of PHI, ensure unmatched accuracy and enhance turnaround times. MRO additionally supports its clients' current and future initiatives, including interoperability, meaningful use and health information exchange. To learn more, visit www.mrocorp.com.