Healthcare privacy and security breach costs are the highest across all industries, costing organizations $380 per record, which is more than 2.5 times the global average of $141 per record.1
In 2017, there were 477 healthcare breaches reported to the U.S. Department of Health and Human Services (HHS) or the media, and information available for 407 of those incidents, which affected a total of 5.579 million patient records.2
While healthcare providers are encouraged to provide patients with greater access to PHI, that same information is threatened by cyberattacks, including ransomware and other malware attacks, and human error in the Release of Information (ROI) process—root causes of breach.
Reduce your risk potential with this free eBook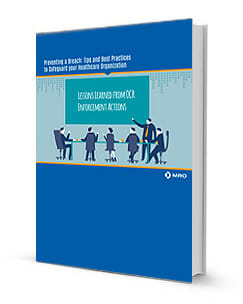 When armed with the right plan, healthcare providers can prevent breaches and combat threats to patient information. Here are tips and best practices that organizations can use when developing a breach prevention plan.
What's in this eBook?
Healthcare Breach Trends
Lessons Learned from 2017 Resolution Agreements and Civil Money Penalties
Best Practices for Mitigating Breach Risk in Release of Information
Five Ways to Boost Your Compliance
Quick Tips on Breach Prevention
Four Suggestions for Providing Patient Access while Protecting Privacy
Download our eBook on Breach Prevention