MRO's 2013 and 2014 KLAS trophies will be displayed at HIMSS booth #5245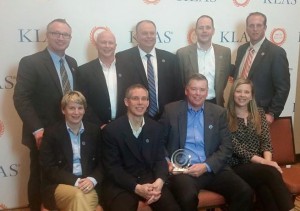 KING OF PRUSSIA, Pa. – April 13, 2015 – MRO, the leader in secure, compliant and efficient exchange of Protected Health Information (PHI), was provided an award in recognition for being KLAS' 2014 Category Leader for Release of Information (ROI) during the Best in KLAS Awards Ceremony held on April 12, 2015. The award will be displayed in booth #5245 at the HIMSS conference, on a custom kiosk that offers direct access to MRO's KLAS performance data.
KLAS had announced MRO as the leader in the ROI market segment in its 2014 Best in KLAS: Software & Professional Services report. This is MRO's second year in a row to receive this honor.
As the 2014 Category Leader, MRO was rated No. 1 for ROI by KLAS, with an overall performance score of 87.9 out of 100 — the highest score among KLAS-rated vendors in that market segment. KLAS scores are weighted in the following key areas: sales and contracting; implementation and training; service and support; and general and overall services.
"We are honored to be able to continue to work with talented healthcare providers to create the annual Best in KLAS report. Their feedback is beneficial as vendors strive for excellence," said Adam Gale, CEO and president of KLAS Research.
Stop by HIMSS booth #5245 to learn more about MRO's No. 1 KLAS-Rated solution, and its suite of PHI disclosure management and interoperability services.
About KLAS
KLAS is a research firm on a global mission to improve healthcare delivery by enabling providers to be heard and counted. Working with thousands of healthcare executives and clinicians, KLAS gathers data on software, services, medical equipment and infrastructure systems to deliver timely reports, trends and statistical overviews. The research directly represents the provider voice and acts as a catalyst for improving supplier performance. KLAS was founded in 1996, and their staff and advisory board average 25 years of healthcare information technology experience. Follow KLAS on Twitter at www.twitter.com/KLASResearch.
About MRO
MRO empowers healthcare organizations with proven, enterprise-wide solutions for the secure, compliant and efficient exchange of Protected Health Information (PHI). These solutions include a suite of PHI disclosure management services comprised of release of information, CMS and private payer audit management and accounting of disclosures. MRO's technology-driven services reduce the risk of improper disclosure of PHI, ensure unmatched accuracy and enhance turnaround times. MRO additionally supports its clients' current and future initiatives, including interoperability, meaningful use and health information exchange. To learn more, visit /.