Co-founder of company assumes new role; company thanks former CEO for years of service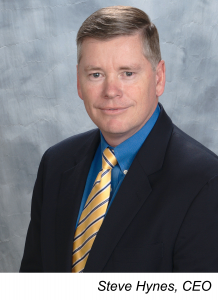 KING OF PRUSSIA, Pa. – October 16, 2014 – MRO Corp., a leader in disclosure management and health information exchange, today announced the appointment of Steve Hynes to the position of CEO, where he will be responsible for the overall direction and leadership of the company. The company thanks founder and exiting CEO, Dan Heist, for his many contributions throughout the last 12 years.
"With the recent onboarding of a new investor partner and additional momentum behind evolving and expanding the company, there is no better person to lead MRO than Steve Hynes," said Heist. "He is a proven leader with commitment, business vision and unparalleled domain experience."
Hynes, a co-founder of MRO, most recently held the position of company president. He served as a key contributor to the early development of MRO's release of information services and has remained instrumental in developing MRO's approach to the PHI disclosure management business.
"Through years of hard work and dedication, MRO has built a highly successful platform for disclosure management," said Hynes. "I share the board's vision for the future of MRO and look forward to leading the company as we serve an expanding market space with best-in-class services and technology."
"On behalf of the entire MRO organization, I would like to express our sincerest gratitude to Dan Heist for his many years of service," added Hynes. "It was through his leadership that the company evolved to be the top-rated leader for release of information and a provider of services, technology and quality assurance that are unmatched in the disclosure management space."
About MRO
MRO, a leader in disclosure management and health information exchange, provides technology-driven solutions that ensure the secure, compliant and efficient exchange of protected health information (PHI). The company's solutions include release of information (ROI), payer audit compliance and tracking, and accounting of disclosures. MRO additionally offers services and applications that support meaningful use attestation and health information exchange. MRO's solutions can be used as a common platform across a healthcare enterprise to standardize disclosure policies and drive system-wide security and compliance. To learn more, visit www.mrocorp.com.