Corporate LiveWire distinguishes MRO as the leading innovator of solutions for managing Protected Health Information disclosure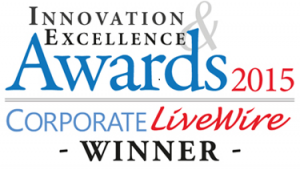 KING OF PRUSSIA, Pa. – April 22, 2015 – MRO, a leader in secure, compliant and efficient exchange of Protected Health Information (PHI), today announced that it was selected as the "Most Innovative Disclosure Management Firm – USA" by Corporate LiveWire, a group that keeps business professionals informed by delivering content on an array of subject areas such as corporate transactions, international markets, business strategy and legislation changes.
Corporate LiveWire welcomed nominations for its Innovation & Excellence Awards from visitors to their website and its corporate base which includes 1.5 million business executives. MRO and three other PHI disclosure management companies were nominated for the "Most Innovative Disclosure Management Firm – USA" award; Corporate LiveWire's judging panel designated MRO as the winner. However, they did not release the names of the other companies.
"We are honored and proud to be recognized for our innovation," said Steve Hynes, CEO for MRO. "As the health information sharing landscape evolves, we strive to keep our clients ahead of the curve and to continuously exceed their expectations with state-of-the-art technologies and services. We will continue to position ourselves as the lead innovator and pioneer in PHI disclosure management."
At the recent HIMSS15 conference, MRO showcased a variety of PHI disclosure management solutions including: the ROI Online® web-based platform for release of information (ROI) and its integration capabilities with both Epic's ROI module and hospital master patient index (MPI) systems; optical character recognition (OCR) record-scanning software that enables improved quality and accuracy; an interface with Social Security Administration's MEGAHIT program for automating the fulfillment of disability determination requests; and Direct Secure Messaging (HISP) solutions for improving coordination of care.
"I am simply thrilled to announce the MRO group as the winner of 'Most Innovative Disclosure Management Firm' in this prestigious awards program," said Leah Jones, awards director of Corporate LiveWire's 2015 Innovation & Excellence Awards. "The judging panel at Corporate LiveWire had set its sights firmly on the most innovative, ground-breaking and client-focused firms that have transformed the way in which companies and individuals do business. Each and every winner has shown excellence, innovation and strong commitment over the past calendar year."
Corporate LiveWire released the details in the full winners guide on April 21, 2015. It can be downloaded on the Corporate LiveWire website.
About Corporate LiveWire
Corporate LiveWire is brought to you by Fenice Media Ltd., a publishing house with an international presence. Fenice Media aim to offer a number of platforms for connecting its clients with an exclusive, global audience. The core products offer daily-updated content along with regular magazine publications that can be viewed on all digital platforms. For more information, visit www.corporatelivewire.com.
About MRO
MRO empowers healthcare organizations with proven, enterprise-wide solutions for the secure, compliant and efficient exchange of Protected Health Information (PHI). These solutions include a suite of PHI disclosure management services comprised of release of information, CMS and private payer audit management and accounting of disclosures. MRO's technology-driven services reduce the risk of improper disclosure of PHI, ensure unmatched accuracy and enhance turnaround times. MRO additionally supports its clients' current and future initiatives, including interoperability, meaningful use and health information exchange. To learn more, visit www.mrocorp.com.