Corporate LiveWire distinguishes MRO as an innovator of HIM solutions in 2016 Innovation & Excellence Awards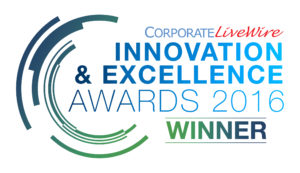 NORRISTOWN, Pa.
– April 27, 2016 –
MRO
, a leader in secure, compliant and efficient exchange of Protected Health Information (PHI), today announced that it was recognized for "Innovation in Health Information Management Services – USA" by
Corporate LiveWire
, a group that keeps business professionals informed by delivering content on an array of subject areas such as corporate transactions, international markets, business strategy and legislation changes.
"The Corporate LiveWire Innovation & Excellence award winners have not only excelled within their respective sector but have also shown flexibility to adapt to industry changes," said Elizabeth Moore, awards director of the 2016 Innovation & Excellence Awards Winners Guide. "We are extremely proud of every single one of our winners and we look forward to seeing how they will continue to demonstrate their commitment in the future."
Corporate LiveWire welcomed nominations for its Innovation & Excellence Awards from visitors to their website and its corporate base which includes 1.5 million business executives. The judging panel at Corporate LiveWire considered the strengths of each shortlisted candidate, setting its sights firmly on the most innovative, groundbreaking and client-focused firms, teams and individuals who have transformed the way in which they do business. Corporate LiveWire stated that each winner was chosen on merit and has shown excellence, innovation and strong leadership throughout their various activities over the past calendar year.
"We are proud to be recognized as a leading innovator for health information management services," said Steve Hynes, CEO for MRO. "I believe the three pillars of MRO's success are our people, a customer-focused culture, and our ability to leverage innovative technologies to support a higher level of service to our customers. By making critical investments in our people, technology and innovation over the years, we have been able to deliver a better Release of Information service."
Corporate LiveWire released the details and the full winners guide on April 5, 2016. It can be found at: Corporate Livewire website.
About Corporate LiveWire
Corporate LiveWire is brought to you by Fenice Media Ltd., a publishing house with an international presence. Fenice Media aim to offer a number of platforms for connecting its clients with an exclusive, global audience. The core products offer daily-updated content along with regular magazine publications that can be viewed on all digital platforms. For more information, visit http://www.corporatelivewire.com/.
About MRO
MRO empowers healthcare organizations with proven, enterprise-wide solutions for the secure, compliant and efficient exchange of Protected Health Information (PHI). These solutions include a suite of PHI disclosure management services comprised of release of information, government and commercial payer audit management and accounting of disclosures. MRO's technology-driven services reduce the risk of improper disclosure of PHI, ensure unmatched accuracy and enhance turnaround times. MRO additionally supports its clients' current and future initiatives, including interoperability, meaningful use and health information exchange. To learn more, visit www.mrocorp.com.