Understanding the Release of Information Process
The Release of Information (ROI) process is complex, with up to 45 steps from start to finish. According to the Association of Health Information Outsourcing Services (AHIOS), various ROI steps can be grouped into these main sections: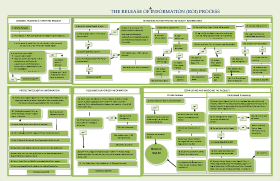 View the AHIOS 45-step ROI Process
Logging, tracking and verifying requests
Retrieving patient Protected Health Information (PHI)
Protecting sensitive information
Releasing authorized information
Completing and invoicing the request
MRO's Quality-Infused Release of Information Workflow Process
One of the ways MRO's Release of Information workflow yields an impressive 99.99% accuracy rate is through multi-tiered Quality Assurance processes, cutting-edge technology and highly trained, experienced people.
Click here for a comparison of traditional ROI workflows and MRO's quality-infused ROI workflow.