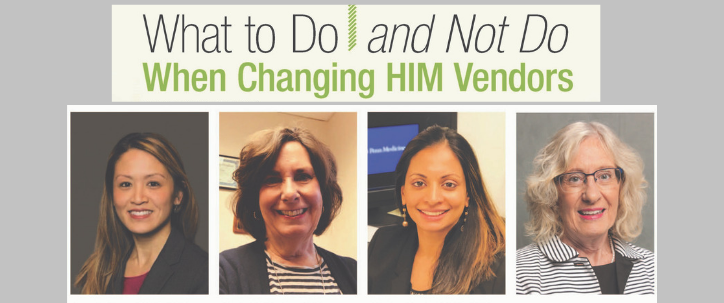 The April 2019 Journal of AHIMA article "What to Do (and Not Do) When Changing HIM Vendors" served as a virtual roundtable featuring the experiences of three HIM leaders who successfully navigated HIM service vendor transitions. The MRO client panelists were Cindy M. Phelps, RHIA, Sr. Director, TSG Business Relationship Management, Carilion Clinic; Sherine Koshy, MHA, RHIA, CCS, Corporate Director HIM, Penn Medicine; and Kathleen J. Edlund, M.M., RHIA, Director of HIM, Trinity Health.
Topics discussed in the roundtable included challenges, lessons learned and practical strategies that help ensure quality service and a lasting collaborative partnership. As moderator of the discussion, I had an opportunity to focus on each expert's type of vendor transition: transcription, EHR and Release of Information (ROI).
Challenges
Choosing the right vendor can be a challenging and daunting task, especially if your current service has been in place for a long time. Whether the service being considered for outsourcing options is in-house or with another vendor, the key to a successful transition is in the planning.
Some of the common challenges that prompted the panelists' organizations to seek a better solution were: the need to have all users on one platform, service and quality issues, communication problems and lack of client support.
Lessons Learned
From their experiences addressing the challenges listed above, each HIM expert offered lessons learned and suggestions for other organizations to consider when transitioning service vendors. Here is a summary of their recommendations:
Conduct benchmark, research, and reference checks.
Establish key performance indicators (KPIs).
Engage multidisciplinary teams.
Conduct a pilot test.
Communicate and collaborate to build a trusted partnership.
Create a project charter.
Provide training and education.
Complete pre-implementation assessment documentation.
Create a visual diagram model of the process flow.
Ensure understanding of ancillary departmental (EHR) software systems.
Preserve a working relationship with the outgoing vendor.
Strategies to help ensure a lasting collaborative partnership
Each panelist offered components of a strong, collaborative partnership that promotes ongoing optimal outcomes. Here are five essential factors:
Monthly review meetings and open communication to discuss successes, concerns and issues with the vendor.
Engagement and availability of the vendor in the daily operational business.
Vendor sharing latest trends with development and with their other clients.
Annual onsite business review to highlight current state and share future state with key stakeholders.
Investment in the training and resources necessary to meet the needs of your organization.
The Journal of AHIMA article provides additional details regarding lessons learned, strategies and expert recommendations. To download a copy of the article, fill out the form below.
Download the Journal of AHIMA Article