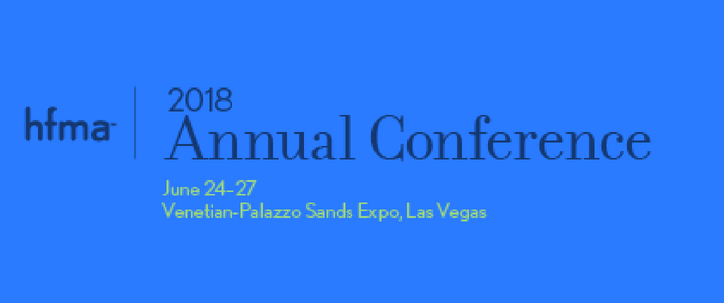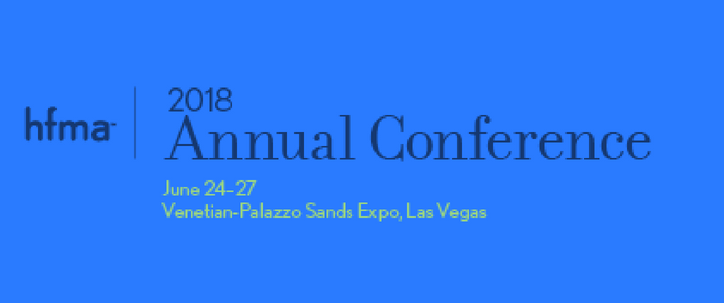 "Efficiency is doing things right; effectiveness is doing the right things." Peter Drucker
Peter Drucker, world-renowned business management guru, reminds us to focus on both efficiency and effectiveness to improve long-standing processes, procedures or policies. Healthcare finance leaders and revenue cycle professionals were charged with the same goal—creating efficiencies and building effectiveness—during the recent HFMA 2018 Annual Conference held in Las Vegas, June 24-27, 2018.
For central business offices (CBOs) and patient financial services (PFS) departments, the need to address stubborn problems and improve performance is paramont to cut costs and reduce risk. One way to achieve these goals is by fostering innovation.
This blog shares HFMA's call for innovation, summarizes four other takeaways from the 2018 event and lays out an important MRO strategy to improve business office efficiency and CBO effectiveness.
Foster Innovation for Business Office Efficiency and Better Outcomes
Kevin Brennan, FHFMA, CPA, the new chair of HFMA's 2018-2019 board of directors and recently retired Executive VP, Finance and CFO at Geisinger Health System, welcomed attendees by discussing the importance of promoting experimentation and new ideas to bolster efficiency in revenue cycle workflow and operations. Brennan encouraged revenue cycle leaders to resist the fear of failing and build new business models to promote performance. As Brennan stated, a good new motto to follow might be "Never be fearful of making new mistakes."
Build Collaboration through Better Tools and Workflows
By coupling innovation with collaboration, Brennan urged HFMA attendees to build new bridges with other departments, providers, payers, consumers and the government. The call for better collaboration was reiterated by Tuesday's keynote speaker, Dr. Rubin Pillay, medical futurist, physician and professor.
With collaboration as the central theme of this year's event, revenue cycle professionals were encouraged to "try new tools and make existing workflows work better" as one pathway to foster collaboration and improve business office efficiency within CBOs and PFS departments.
Go to a New Level in Healthcare Delivery
Dr. Pillay also discussed the role of artificial intelligence and technological innovation in spurring healthcare collaboration. Pillay provided examples of growing organs for corneal transplants and using robotics to help paraplegics walk as important ways healthcare organizations can take patient care to a new level. According to Pillay, "Technology and data, their convergence with policy, and provider and payer strategies are driving major trends to transform healthcare."
Enhance the Patient's Financial Experience
The final takeaway from the HFMA 2018 Conference was a continued cry to improve the patient's financial experience. Best practices from HFMA's 2017 MAP winners were referenced as innovative ways to make steady, incremental changes and improve performance. In reviewing these MAP winner strategies, we are reminded of the need to continually speed processes and streamline operations—this is especially true for CBOs.
Improve Business Office Efficiency by Reducing Biller Distractions
Consistent with HFMA's themes of efficiency, effectiveness, innovation and collaboration, MRO is laser focused on improving business office performance. For most CBOs and PFS departments, biller distraction is an important issue—one we intend to reduce for MRO clients. We continue to hear from clients that billers and collectors become distracted with trying to process payer requests for medical records. Our latest service was discussed with HFMA attendees during the conference and received rave reviews.
Challenge:
Business office personnel release millions of medical records annually to commercial health plans and government payers to expedite payment of claims, appeal denials or fulfill auditor requests. However, it doesn't make sense for these business office staff—billers or collectors—to handle payer requests for medical records when they should be focused on reimbursement. There are also HIPAA risks to consider when billers release Protected Health Information (PHI) versus having Health Information Management (HIM) professionals manage this task.
Receiving, processing and managing payer requests for health information is what MRO does best. So we're applying this expertise to cut cost and reduce risk for CBOs and PFS departments.
Solution:
Instead of distracting billers and collectors from their core objective of collecting revenue, MRO disclosure management experts apply new workflows and HIM collaboration to the process of Release of Information (ROI) in the business office. Here is a high-level summary of how the new MRO service works.
Business office logs requests and attaches billing documents
MRO adds medical record documentation
MRO quality checks and releases billing and medical documentation to the payer
MRO sends documentation by payer-requested delivery method
Results:
MRO clients who are using this service from MRO are achieving both efficiency and effectiveness in their CBOs and PFS departments. Specific improvements include:
Heightened efficiency and cost savings
Minimized breaches and more compliant PHI exchange
Payer request trackability for analytics
Enhanced collaboration between HIM and the business office
Maximized production by keeping teams focused on what they do best
Improved visibility and transparency for both teams
Request information about MRO's business office ROI services