I have a fabulous job title: Senior Director of Motivation and Development. When I meet people, they often comment on my title, saying it's intriguing and then ask what I do. The development aspect of my job at MRO Corp. includes managing all the training content—creating engaging lessons within our learning management system for our large, diverse workforce. But the truly heartwarming and rewarding part of my job is the motivation aspect. It is my responsibility to manage a program that inspires our workforce. I often joke that I get to play MROprah!
Creating Everyday Heroes
The biggest piece of our motivation plan is a program called Everyday Heroes, which celebrates team members who go above and beyond in their job performance. On a bimonthly basis, we produce an Everyday Heroes Newsletter that tells stories about how the actions of a team member touched someone's life. The stories come from a variety of sources, but each one is about an MRO customer who received outstanding service and took the time to email an employee's manager. Sometimes these happy customers send a gift of appreciation or call MRO to say they had a wonderful customer service experience. By far, most of these satisfied customers are patients whose lives have been touched.
Additionally, there are customers such as attorneys, insurance company representatives and our clients who write lovely letters to sing someone's praises. Sometimes a staff member is asked to tell a noteworthy story about their own MRO coworker. Further, the newsletter features a section called "My Manager Cares" where an employee nominates a manager for excellent leadership and an inspirational skillset.
I recently shared with my daughter that one of my career accomplishments I'm most proud of is being able to touch one person's heart. This is a privilege I treasure. As the Everyday Heroes program begins its fourth year this January, our CEO asked me how we find all the stories. I explained that inspiration is contagious, so team members and managers continue to send me great material.
I like to say, "We don't just disclose health information, sometimes we save lives."
Celebrating Great Customer Service at MRO Corp
Many ROI specialists who handle patient walk-in requests often say the most enjoyable part of their job is making a difference in a patient's life. Our program celebrates these moments and gives people recognition for great customer service. When acknowledged as an Everyday Hero, honorees receive a gift box with a gift card, an MRO Hero frame containing their story, a candygram and a chance to enter a drawing for a big cash prize. Historically, we've had around 60 team members per year receive this honor. At the end of each year, we randomly draw three Everyday Heroes and one "My Manager Cares" for the big cash prize.
How We Make a Difference
As I reflect on all the newsletters I've written over the years, some memorable stories come to mind. In one case, a patient was in the middle of surgery when a report from an old chart was needed. Our staff member made the request a top priority and walked the report to the surgery area.
In another case, a husband came in to obtain his wife's report, explaining that she was in the car because she had difficulty walking. To make things easier, our staff member walked to the requester's car to obtain the patient's signature on the authorization form.
Another story that comes to mind featured a manager who stayed at work in the Distribution Center during a blizzard because many employees were unable to get to work. It's so great to hear, "I have been working for many years with many bosses, but I have never had a manager make a difference in my life the way my MRO Manager has done." Heartwarming, inspirational, making a difference. We care!
Here are some photos of gifts that have been received by staff members: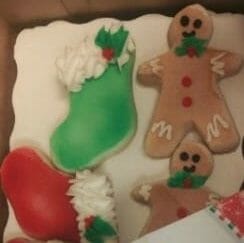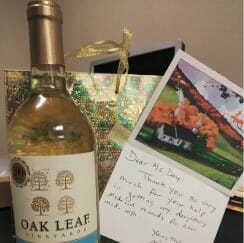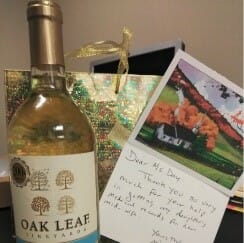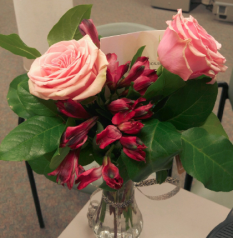 To stay updated on our heartwarming and inspirational "Everyday Heroes" sign up to receive MRO's newsletters. 
Stay updated on our heartwarming and inspirational "Every Heroes" by signing up to receive MRO's Newsletters.