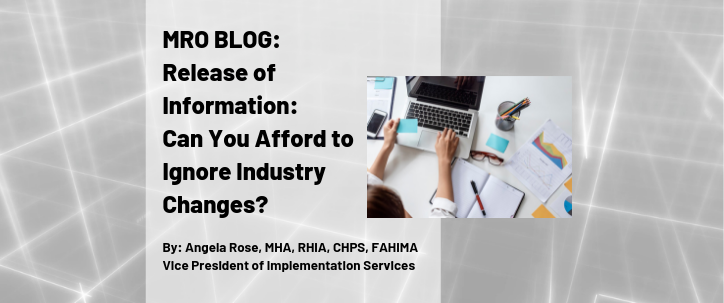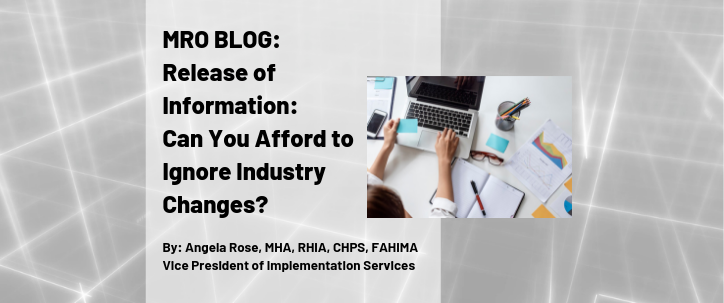 MRO has released the results of a nationwide survey, "Release of Information: Can You Afford to Ignore Industry Changes?" The survey was conducted by Porter Research, a market intelligence and research group focused on healthcare IT. The survey provides valuable insights from senior HIM professionals concerning Release of Information (ROI) priorities and approaches, including top vendor criteria.
As requests to disclose patient health information rapidly evolve, provider organizations are challenged to apply innovative methods to Protected Health Information (PHI) disclosure management across their health systems. With increasing demands for the exchange of and access to health information, HIM leaders must deal with large volumes of government and commercial payer audits, enterprise-wide compliance and breach prevention, and patient satisfaction. The changing landscape calls HIM leaders to reevaluate their ROI strategies, and the results of our study can be used as a guide for navigating disclosure management.
The executive insights from the report represent 33 hospitals, 1,253 clinics and 620,719 annual ROI requests. The surveyed senior HIM professionals provided feedback regarding PHI disclosure management options and the assessment of ROI vendors. The survey questions included, but were not limited to, the following:
When is it time to consider a new strategy and ROI partner? According to the Porter Research survey results, senior HIM leaders indicated that there are two main reasons for seeking better ROI solutions. The first is dissatisfaction with their existing vendor due to inadequate quality and service, including breach occurrences. The second involves the need for more modernized solutions to meet enterprise-wide compliance and operational demands as their systems grow and evolve.
What are the essential attributes of an ROI vendor? The survey results found that in most evaluations there were at least three ROI vendors originally deliberated, with two typically making the short list. The respondents revealed five important criteria to consider when looking for an ROI partner: ease of use, workflow, ability to handle volume, turnaround time and industry reputation.
What key decision criteria matter the most to healthcare organizations? Once crucial characteristics are examined, it's vital to complete an analysis of how the aspects of an ROI agreement align with your own organization's key performance indicators. The respondents revealed the most important decision criteria when choosing a new ROI vender are integration and technical features, compliance and level of service engagement. Of all criteria, price was ranked least important.
The Release of Information needs indicated by the survey show that an enterprise-wide approach to disclosure management is crucial. Healthcare organizations are partnering with strategic ROI vendors to address the intricate requirements of their organizations. When assessing vendors, the top criteria in decision-making are reputation, service, quality, technology and accountability. These survey results will help guide HIM directors who want to transition from an in-house to outsourced ROI model or those who are looking for a new ROI partner, if already outsourced.
To download a copy of "Release of Information: Can You Afford to Ignore Industry Changes?" complete the form below.