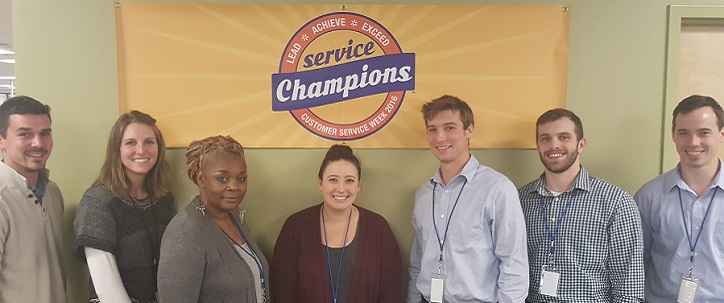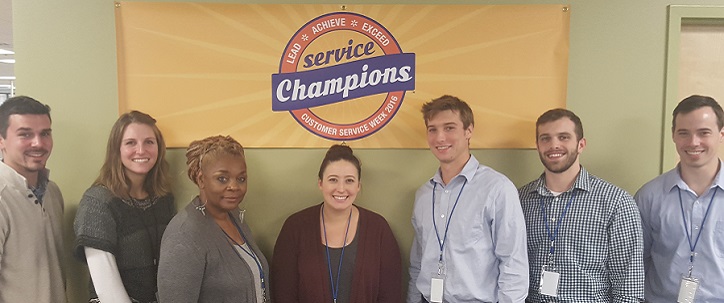 Organizations across the country have celebrated National Customer Service Week since 1987 as a way to honor and recognize workforce members delivering customer service as the core function of their positions. In 1992, the U.S. Congress proclaimed this celebratory week as a nationally recognized event, to be celebrated annually during the first full week of October.
At MRO, we are proud to celebrate this week, as service excellence is one of our primary goals and core values; we strive to treat customers with respect, empathy, courtesy and professionalism.
Service Champions
This year's theme for National Customer Service Week is "Service Champions," recognizing frontline customer service professionals as champions in the eyes of clients, and acknowledging that a client-focused culture is only possible when a dedicated team of service specialists works together.
This year's logo includes three essential steps to becoming a service champion:
Lead by example
Achieve success
Exceed expectations
MRO's service champions help our provider clients and requesters of medical records navigate the complex and sometimes confusing world of Release of Information (ROI). More than simply answering questions, our service specialists also:
Solve problems in an expedited manner
Provide empathetic encouragement
Go the extra mile to exceed customer expectations
Remain calm, professional and courteous
Brighten patients' days
Patient Advocate Program: Taking service to a new level
This year, MRO has taken customer service to a whole new level. We proudly introduced our new Patient Advocate Program earlier this year to elevate our focus on patient satisfaction. The key goal of this new team is to provide distinguished service with a heightened sense of compassion and empathy, while fast-tracking issue resolution. Our Patient Advocate team provides an additional lifeline for patients, providing focused coordination of their concerns, and ensuring patients are fully satisfied with the final remediation and outcome.
We are planning some special events, activities and surprises this week to honor and thank our frontline service professionals for the incredible dedication and hard work that has helped us be the KLAS Category Leader for ROI services three years in a row (2013, 2014, 2015/2016).
Please remember to thank a service provider this week for all they do!
To download information about our service teams working from our National Service Center, including the MRO Patient Advocate team, please fill out the form below.
Download our National Service Center Booklet