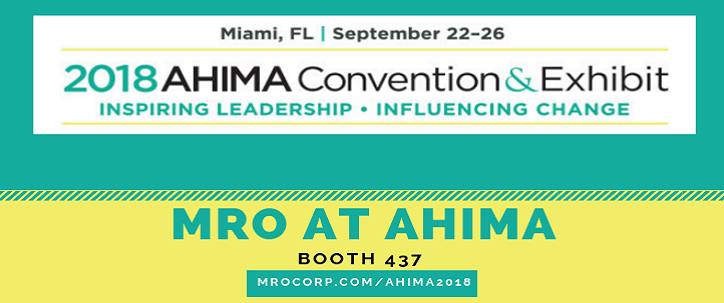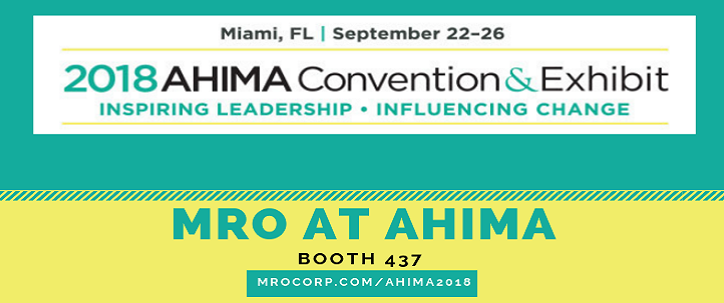 As we approach the 2018 AHIMA National Convention and Exhibit in Miami, held September 22-26, 2018 in Miami, MRO is very excited to exhibit and have the chance to mingle with our Health Information Management (HIM) partners and friends.
During exhibit hall hours, members of MRO's leadership will be available at Booth 437 to discuss topics surrounding Protected Health Information (PHI) disclosure management, including industry trends, breach risk mitigation and MRO's KLAS #1-rated Release of Information (ROI) solutions. We will also have a mentalist/magician performing in our booth on Monday and Tuesday, September 24 and 25.
Some other places you can find MRO during the convention include:
AHIMA's Privacy, Cybersecurity, and Information Governance Institute
Saturday and Sunday, September 22-23
Miami Beach Convention Center, Art Deco Ballroom, Room 228 AB
AHIMA is committed to remaining the leader in privacy, cybersecurity, and Information Governance (IG) throughout healthcare. Because of this commitment and healthcare's evolution—which requires continued education on the most current topics and trends in the industry—AHIMA's annual Privacy and Security Institute is evolving. This year AHIMA is introducing the Privacy, Cybersecurity, and Information Governance (PCIG) Institute.
MRO is proud to sponsor this year's PCIG Institute, and Rita Bowen, MA, RHIA, CHPS, CHPC, SSGB, Vice President of Privacy, Compliance and HIM Policy for MRO will participate in Sunday's 10:55am – 11:45am Eastern panel discussion "Privacy and Security Competency Gaps: How to Navigate Your Way to Success."
Case Study for Business Office ROI: Yale New Haven Health
Monday, September 24
Miami Beach Convention Center, Exhibit Hall, Theater C
12:15pm – 1:05pm Eastern
Join Kim Charland, RHIT, CCS, Director of Revenue Cycle Services for MRO, and Cindy Zak, MS, RHIA, PMP, FAHIMA, Executive Director of Corporate HIM for Yale New Haven Health, for a presentation on exploring ways MRO's Medical Record Attachment Services for the Business Office can help HIM leaders improve interdepartmental collaborative efforts to efficiently and compliantly fulfill ROI requests that support claim payments.
ROI Networking Roundtable
Monday, September 25
Miami Beach Convention Center, Room 209
3:30pm – 4:15pm Eastern
Attend the presentation "The Modern Age of ROI – Are You Up to Date?" to network with HIM peers and experts in the field, including MRO's Rita Bowen and Angela Rose, MHA, RHIA, CHPS, FAHIMA, Vice President of Implementation Services. Bring to the table any issues or challenges faced in ROI and discuss best practices.
Educational Session: Project Management in HIM Implementations
Monday, September 25
Miami Beach Convention Center, Ocean Drive Ballroom A-D
4:30pm – 5:15pm Eastern
To learn best practices for utilizing project management skills in enterprise-wide HIM implementations, join Angela Rose and Emilie Sturm, Sr. Revenue Management Consultant for Trinity Health, for this exploratory session.
Meet MRO at AHIMA
MRO has been exhibiting at this convention every year since 2004. In our 15th year at the event, we anticipate this to be our best year yet. I am looking forward to learning about the latest industry trends and being able to see and spend time with all our clients and friends in attendance. We hope to see you there!
Schedule a PHI disclosure management consultation at AHIMA.