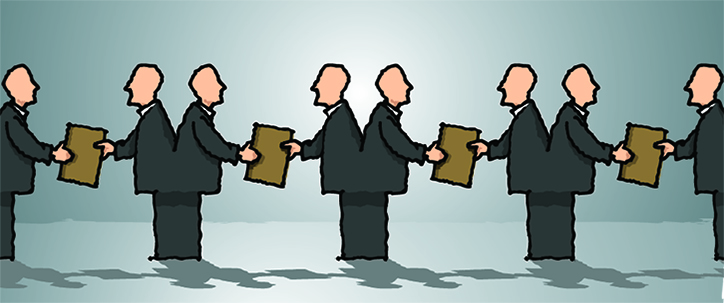 HIM: The Original Health Information Exchange(rs)
It wasn't that many years ago that medical records consisted of reams of paper files stored in rows and rows of cabinets. It's also not that long ago that fax machines were considered "high-tech." Although the technology was lacking by today's standards, health information management (HIM) professionals led initiatives around the exchange of patient health information, ensuring compliance with federal, state and facility patient-privacy policies.
Fast forward to today's HIM department, where patient charts are digitized and can be electronically transmitted in a matter of seconds using electronic medical records (EMRs) and Health Information Exchanges (HIEs). Technology has changed the face of health information exchange, bringing about both challenges and opportunities that require HIM leaders to evolve their roles and keep pace with changing times.
For example, electronic exchange technologies are typically implemented by the information technology (IT) department without involving HIM professionals until late in the process. It is essential, however, that collaboration with HIM leaders occurs early in these HIE initiatives and throughout the process so they can offer their expertise and knowledge of best practices in information governance, workflow and compliance.
One way to get involved early in the planning and implementation is for HIM leaders to present potential exchange solutions to their IT peers. This requires research and education (and gumption). Often, a Release of Information (ROI) partner can be a great resource. A technologically advanced ROI company, in particular, likely offers some "HIE-like" solutions such as:
Direct Secure Messaging as a fax replacement
esMD delivery to the Centers for Medicare & Medicaid Services for audits
Social Security Administration interfaces for automating the disability claims process
With their HIM expertise and technology capabilities, your ROI partner can equip you with solutions, help raise your levels of influence, and assist in bridging the gap between HIM and IT. By opening the doors of communication and collaboration, the departments can work as a team to electronically exchange health information in a secure, compliant and efficient way.
Check out our white paper, Finding the Right Partner for Integrated HIE, which discusses the benefits of partnering with a PHI disclosure management firm to implement HIE-based solutions.
For even more information, please attend our session on HIM and IT collaboration around HIE at the 87th Annual AHIMA Convention in New Orleans. We will be presenting with Susan Carey, MHI, RHIT, PMP, who serves as System Director for HIM at Norton Healthcare, at 10 a.m. on Wednesday, September 30, 2015. Look forward to seeing you there!
Sign up to be notified for future MRO blog posts