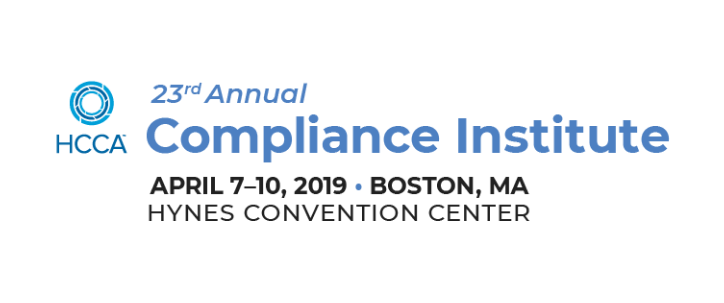 The 23rd Annual HCCA Compliance Institute provided a wonderful learning experience focused on compliance in various areas of healthcare delivery. MRO was fortunate to have several representatives attending informative sessions and engaging in meaningful conversations with other attendees.
I was pleased to have the opportunity to co-present with our client, Melissa Landry, RHIA, Assistant Vice President of Health Information Management (HIM), Ochsner Health System on "Incident Response: Best Practices in Breach Management." We covered the following topics during our presentation:
Current Environment and Statistics Related to Healthcare Breaches
Breaches under HIPAA and State Law
HIPAA Security Rule Safeguards that Address Incident Response Plans
Best Practices for Incident Response Plans
The First 24 Hours Following a Breach
Fill out the form below to request a copy of our presentation.
Session Takeaways
Of the numerous breakout sessions and learning tracks I attended, there were two in particular that I found to be very informative and insightful—updates from the U.S. Department of Health and Human Services (HHS) Office of Inspector General (OIG) and the Center for Medicare and Medicaid Services (CMS).
OIG Update
Joanne Chiedi, Principal Deputy Inspector General, HHS OIG, provided an enlightening keynote address. Her presentation encouraged compliance professionals to be bold and take action. Chiedi shared that at this time of disruptive innovation in healthcare, compliance must engage in these innovative conversations. Here are a few of her other key points:
We cannot oversee what we do not understand. Effective oversight requires understanding how healthcare is delivered today and how it will be delivered in the future.
Give Compliance the data. If anyone in your organization has data, Compliance should have access to it.
Compliance and innovation must advance together. Compliance can and should play a big part in getting innovation right in healthcare.
This presentation offered a comprehensive overview of the current healthcare ecosystem along with a description of the role compliance professionals play in upholding quality standards and processes.
CMS Update
Kimberly Brandt, Principal Deputy Administrator for Operations, CMS, joined the conference to deliver this update. Here is a preview of announcements that we can expect from CMS:
Patients over Paperwork
Interoperability and MyHealthEData
Opioid Epidemic
Program Integrity
This presentation provided attendees with the inside scoop and a great overview of what is on the horizon with CMS.
Continue Your Compliance Education by Attending MRO's Upcoming Webinar
Privacy and security within a healthcare enterprise are top of mind in an era of regulatory reform and breach. With risks including financial penalties, lawsuits and reputational damage, healthcare organizations are seeking ways to mitigate risk and ensure proper disclosure of PHI through new technology and HIPAA-compliant policies and procedures.
In MRO's upcoming webinar "Enterprise-Wide Disclosure Management: Closing the Compliance Gaps," I will cover the benefits of implementing an enterprise-wide PHI disclosure management strategy to close compliance gaps. This session is pre-approved by AHIMA for one (1) CEU in the privacy and security domain. Secure your spot today by registering here.
Request HCCA Incident Response Breach Management Slides