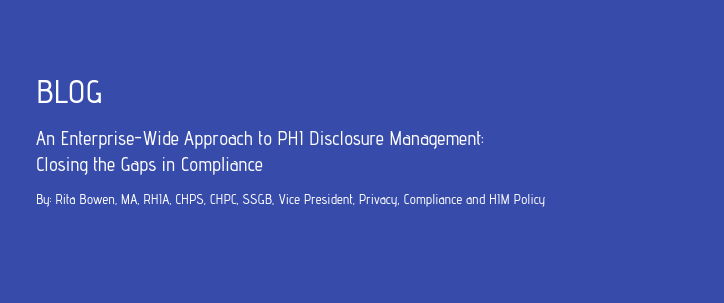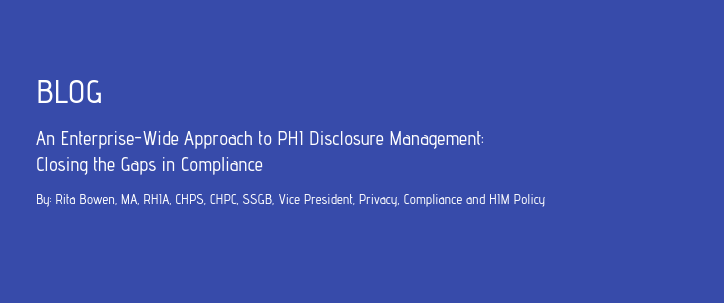 In an era of regulatory reform and breach, privacy and security compliance is top of mind for health systems. Healthcare leaders are seeking ways to mitigate risk—including financial penalties, lawsuits, and reputational damage—by improving Protected Health Information (PHI) disclosure management processes. Many are embracing the benefits of taking an enterprise-wide approach and standardizing technology, policies and procedures across points of disclosure within their health systems.
In the December 2018 issue of HCCA's Compliance Today publication, I authored "Enterprise-wide PHI disclosure management: Closing the compliance gaps," which covered the following four topics.
Increased Focus on Small Healthcare Breaches
Small breaches affecting fewer than 500 patients at a time have become more frequent than the large cyberattacks we see publicized in the news. A cause of these breaches is improper disclosure of PHI during the Release of Information (ROI) process. With increased frequency and impact on patient privacy, small breaches are getting more attention from the OCR.
Small breaches can be just as costly as large ones in terms of penalties and reputational damage. The risks involved with multiple disclosure points and the lack of standardized processes make PHI disclosure difficult to direct and track, making breaches more likely. An enterprise-wide approach to PHI disclosure management is the recommended solution to the challenges faced by healthcare organizations.
PHI Disclosure Across the Enterprise
Although HIM departments still hold primary responsibility for handling PHI disclosures, other areas— including radiology, business offices, and physician practices— increasingly receive requests to release PHI. The issues around this trend pose risks that can lead to privacy breaches. Here's why:
ROI is not a core responsibility of non-HIM staff—and it is not their top priority.
Other departments lack sufficient knowledge of rules and regulations governing the compliant release of patient information.
Specialized training and multi-tiered Quality Assurance are required to properly disclose PHI.
Quality Assurance Gaps in Release of Information
Quality and accuracy are important aspects of compliant PHI disclosure. However, since ROI workflows involve a variety of manual steps and are complex, there is room for error. Some startling statistics outlined in the HCCA article include:
Approximately 30 percent of all submitted ROI authorizations are initially found to be invalid.
With more than 100 possible combinations of errors or omission points across a wide variety of request types, up to 10 percent are processed with errors if the only line of defense is the person onsite logging the request.
5 percent or more of patient data in EMRs have integrity issues, including comingling of patient records.
Well-trained ROI specialists will catch most of mixed records. However, with just one level of quality control, 1 in every 200 requests will included comingled records.
As a best practice, ROI authorizations and PHI should be checked for accuracy multiple times by specially trained ROI staff and sophisticated technologies to avoid non-compliant requests and/or comingled records. This can be best achieved if PHI disclosure management processes across a healthcare enterprise are streamlined through HIM.
Enterprise-Wide Approach to PHI Disclosure Management
A centralized, enterprise-wide approach to disclosure management is the optimal solution to the imminent challenges that healthcare professionals face. By standardizing processes throughout an organization and applying best practices under HIM's expertise across the system, healthcare organizations can ensure a steady enforcement of enterprise disclosure policies, a manageable workflow, Quality Assurance and a consistent experience for patients and requesters of PHI. This approach enables healthcare organizations to have complete confidence in achieving compliance. An enterprise-wide strategy not only protects a patient's privacy, it also protects the institution against breaches, financial risk, lawsuits, and reputational damage.
For more information on breach prevention and tips to protect your organization download MRO's eBook "Breach Prevention: Tips and Best Practices to Safeguard your Healthcare Organization"
Download MRO's eBook "Breach Prevention: Tips and Best Practices to Safeguard your Healthcare Organization."