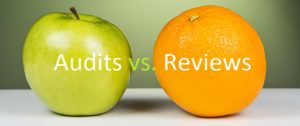 It's no secret to most HIM professionals that the volume of health plan medical record requests continues to increase significantly. These requests vary in purpose, and there can be some confusion in regard to which are actually audits versus which are reviews, e.g. HEDIS and Risk Adjustment.  Here are some helpful tips for telling the difference.
Telling the Difference between Payer Audits and Reviews
Typically, the purpose of post payment audits is to confirm correct coding and sequencing as billed on the claim to determine if payment was made to the provider correctly; the health plan's intention is to recoup funds on overpaid claims, which benefits them.
So what is the difference between an audit and a review? HEDIS and Risk Adjustment (Medicare and commercial) reviews do benefit the payers; the main difference is there is no potential negative financial impact to providers.
HEDIS reviews can actually benefit providers during contract negotiations because the HEDIS performance rankings can be used to gauge the quality and effectiveness of different health plans for potential participation with the facility.
With Risk Adjustment reviews, health plans have to prove the needs of the population to CMS so they are able to continue to provide services for higher risk patients, and ultimately pay providers for the care of this population. In both cases, medical records are needed to perform this analysis.
Payer Audit and Review Requests are Chargeable
In 2015, 85 percent of audit and review requests came from third party vendors representing the health plans. Both post payment audit and review requests are typically chargeable to the requesting party, and they are willing to pay due to the importance of collecting the records. It is not uncommon for these vendors to apply pressure to providers to send records by a faux deadline and/or at no cost. A provider's Release of Information vendor should be able to work directly with these requesters to ensure payment for and timely delivery of records.
To learn about MRO's Payer Audit and Review solutions, visit the MRO website or visit us at the HFMA ANI convention
June 25-28, 2017 in Orlando, Florida – Booth #1150.
Sign Up for Future Blog Posts