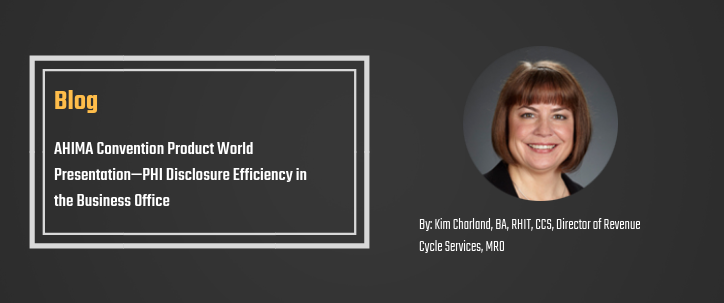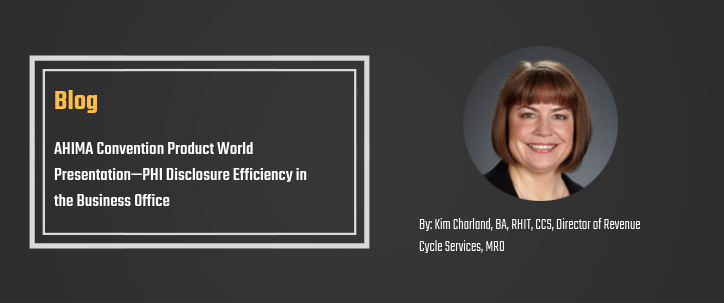 During the 2018 Annual AHIMA Convention & Exhibit in Miami, MRO hosted the Product World presentation "A Case Study for PHI Disclosure Efficiency in the Business Office—Yale New Haven Health." I was fortunate to have the opportunity to co-present the session with Cindy Zak, Executive Director of Corporate Health Information Management, Yale New Haven Health.
In her position, Zak is well aware of the challenges HIM professionals face in response to the rising volume of Release of Information (ROI) requests made to business offices to support payment of claims. Business office personnel can spend up to 40 to 45 percent of their day pulling and attaching medical records, taking them away from their core responsibilities. Mostly billers and collectors, these staff typically lack expertise in ROI and Protected Health Information (PHI) disclosure management. And, whenever medical records are handled, HIPAA concerns must be top priority, such as the minimum necessary requirement. Other industry challenges include:
Increased backlogs
High-priority requests requiring timely fulfillment
Complicated/disparate processes
Incomplete and inconsistent data collection and trackability
Convoluted issue resolution processes
Lack of transparency
Strained relations among business office, HIM and payers
Together we explored new PHI disclosure management technologies and workflows for improving collaboration between HIM and the business office when fulfilling additional documentation/claim attachment requests.
Addressing PHI Disclosure Challenges in the Business Office
Yale New Haven Health experienced many of the common industry challenges, especially the need for transparency in HIM and an efficient HIM procedure for billing releases. Because the business office maintained ownership of payer requests, HIM was uninformed, serving as a middleman to process thousands of pages. Averaging 20 cases of paper a week resulted in an additional $3,000 per month expense just in paper costs. And, once records were pulled and copied—often including more than the minimum necessary—the information was sent back to the business office for shipping to payers.
As an early adopter of MRO's business office medical record attachment solution, Yale New Haven Health has already achieved positive outcomes:
Business office staff is focused on billing and collecting.
HIM staff is focused on pulling the requested medical records.
Only the portion of the medical record that is requested is being sent.
Paper processes have shifted to electronic delivery.
Workflows are based on payer specifications.
Medical record claims attachments are sent within 24 hours of receipt.
Requests are now trackable to promote transparency.
According to Zak, "Our system business office and HIM personnel collaborate more effectively, focusing on their core responsibilities to maximize productivity and efficiency. The new technology and workflows have reduced paper processes, creating significant cost savings and enhancing enterprise-wide compliance."
As MRO extends its expertise for health information exchange into business office functions that support revenue cycle management, health systems can benefit from improved efficiency, cost savings, reduced financial risk, trackable delivery, and enhanced interdepartmental and payer collaboration.
To learn more about strategies to improve PHI disclosure efficiency in the business office, fill out the form below to receive a copy of AHIMA's 2018 Product World Presentation
Receive a copy of "A Case Study for PHI Disclosure Efficiency in the Business Office—Yale New Haven Health."