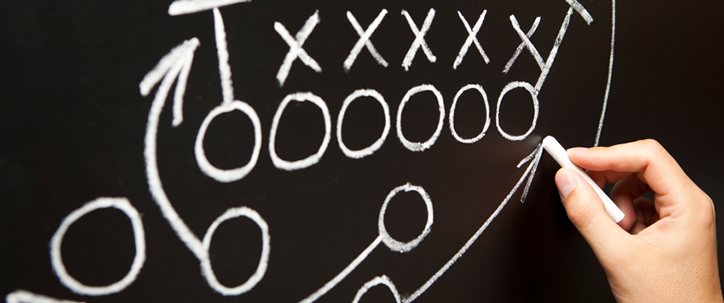 Winter is almost upon us. We're deep into the football season. And, I'll be settling in at home to watch the local Philadelphia Eagles play the Buffalo Bills this weekend.
I've watched the home team struggle this season, and I can't help but think about what makes some teams more successful than others. I believe that great teams need solid training and coaching, plus the confidence that comes with practiced experience, to choose and execute the right play at the right moment as part of a winning strategy. Just as it does in the game of football, this counts in the business of ensuring efficient and compliant disclosure of Protected Health Information (PHI), too.
To manage Release of Information (ROI) in the best interests of the patient and for timely, informed care, a Health Information Management (HIM) team needs to protect the ball (or the request) and deliver it (and its associated PHI) safely over the goal line time after time. In that spirit, the following are four ways your PHI disclosure management team can bring home ROI touchdowns:
1. Preparation. Having a great playbook means being prepared with a set of plans for a variety of situations. Each player (or ROI specialist) should be trained and ready to take the best-practice action in each case. This kind of proactive approach can help prevent fumbles in the request completion process.
2. Know the rules. Knowing the rulebook is also essential to the game. With ongoing changes to the HIPAA Privacy & Security rules, as well as the need to comply with state law, healthcare organizations must ensure that all requirements are met. HIPAA guidelines may be overruled by state law, and the regulations that apply in one state may not exist in another. To be in compliance, the organization needs to understand the variant situations and adjust processes appropriately.
3. Performance measurement. Measuring, reporting and reviewing performance are also crucial to ensure that productivity, turnaround, Accounting of Disclosures and other key areas are all running at their peak. It's much like watching the game films at practice the next day to determine exactly what took place and then figure out how to execute better next time. Likewise, thorough risk assessment will allow the team to eliminate any openings in its defense.
4. Strong coaching. Team members should receive a formal program of ongoing learning led by highly qualified "head coaches" where they gain knowledge and learn good judgment which results in strong productivity and highly accurate ROI deliveries. Learn more about MRO's training and education programs on our website.
As part of their strategy, many organizations choose to outsource PHI disclosure management rather than maintain their own team and processes. Fortunately, MRO is positioned to take it all on and consistently score for our partners. MRO offers the type of team I have described here plus state-of-the-art technology all integrated into a proven, standardized workflow that helps enforce HIPAA-compliant policies and procedures across the multiple departments that disclose PHI.
A successful PHI disclosure management strategy should be dedicated to using all available resources to win the game and the season, and a strong, focused team is a key component. MRO's winning team delivers high-quality results every day.
Sign up to be notified for future MRO blog posts