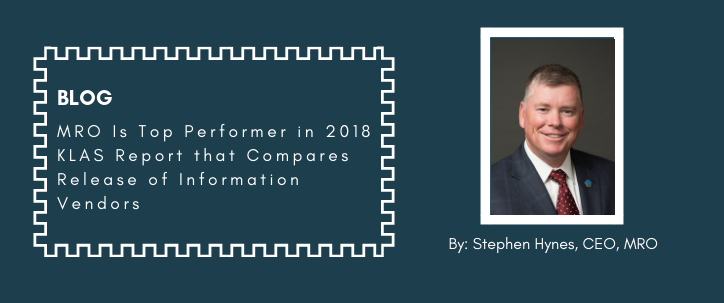 In September 2018, KLAS published the performance report "Release of Information 2018: Who Delivers Most Consistently Across Customers?" With a track record of being the KLAS "Category Leader" for ROI, as designated in 2013-2018 "Best in KLAS" reports, we were eager to dig into the latest research to see if MRO had again received the highest performance ratings.
We were not disappointed. I'm pleased to report that KLAS named MRO the overall highest performing ROI services vendor, outperforming the two other vendors included in the report. Only three ROI service providers had statistically adequate client bases to be included.
Key Findings: 2018 Release of Information KLAS Report
Key findings centered on MRO's ROI services are:
On a 100-point scale, MRO's reported overall performance score is 90.4.
MRO's performance ratings for overall satisfaction, quality of service staff and turnaround time are rated highest among the vendors.
MRO is noted as the consistent high performer and well-rounded firm with good communication, good employees and strong delivery of ROI services.
95 percent of MRO's clients say they would hire the company again, a percentage much higher than the other vendors.
MRO has the proven scalability to meet large client needs and implementations.
As I read through the report, it was apparent that quality is a key theme related to MRO's services. Our "top notch employees and outstanding customer service" are highlighted, and KLAS's research finds that MRO clients appreciate the responsiveness of our customer service, especially the ease of speaking with someone when needed.
Reflecting a bit, I felt the emphasis on high-quality service within this report echoed findings in the last KLAS report to feature a deep dive into ROI: "HIM Services Performance 2015: Coding, Transcription, Release of Information." In the 2015 report, MRO was recognized for the best overall performance, highest quality and fastest turnaround times.
Since the 2015 HIM report was released, MRO has grown to be one of the largest ROI vendors, serving more than 7,500 locations nationwide. It is rewarding to see that our clients continue to recognize our work as the highest quality service in the industry as we continue to expand.
That brings me to another topic. Scalability. MRO's ability to scale to provide quality ROI services to both large and small clients is also noted in the 2018 report. One surveyed HIM director said, "We don't see any issues with MRO being able to scale to meet our needs. When we asked to amend our contract, we were asking for a couple of FTE equivalents, and since that time we have lost some key staff members. So, MRO is ready to expand. Our experiences with them have all been either very good or excellent. They are very reputable."
I personally believe MRO client feedback provided to KLAS is a strong indicator of high-level client satisfaction. As we onboard more of the nation's top health systems, we are making the necessary investments in technology and people to ensure we continue delivering the best service quality while meeting the needs and expectations of our clients.
Video: MRO: KLAS-rated #1 for Release of Information
In 2012, MRO became the first rated vendor in KLAS's Release of Information services market segment. Since then, MRO has been consistently rated #1 for ROI, and we closely monitor our performance scores to ensure MRO clients receive the best service possible.  Watch the video to learn more.
I am proud that MRO's people, technology and uncompromising commitment to our clients' success are recognized by KLAS, not only in relation to the other ROI vendors, but also on an objective performance scale.
To read more about KLAS's research on Release of Information, complete the form below.
Request MRO's Summary of KLAS Reports