Fueled by the Meaningful Use program, healthcare organizations nationwide have invested billions of dollars plus countless hours in their electronic medical record (EMR) systems and are looking for ways to maximize value from those huge investments. More than 70 percent of responding College of Healthcare Information Management Executives (CHIME) members agreed that optimizing such investments is a top priority, according to an August survey.
One key optimization opportunity is EMR integration, which allows providers to leverage their investments and continue to use best-of-breed frameworks, ensuring they don't get locked in with a single vendor.
Opportunity to integrate
EMR vendors have recognized the importance of opening up their systems by letting other vendors add to their core product. Epic has taken the lead in this area. The company's new application exchange program, which is similar to Apple's App Store or Android's Google Play, provides a framework of APIs and technical support to help non-competing vendors make value-added integrations between their product and Epic; they also provide a sandbox for testing. This open approach creates a win-win-win scenario for the EMR vendor, other third-party vendors and their mutual clients.
Ease of use and streamlined workflow
MRO has taken advantage of the EMR integration opportunity to streamline Release of Information (ROI) workflows and improve ease of use for our clients. This January, we officially announced the launch of MROeLink®, a suite of health information technology (HIT) integrations for ROI. At the core of MROeLink is a web services-based synchronization between our ROI platform and the ROI module within Epic, using API services provided on Epic's Interconnect Server.
MROeLink automates seven different manual ROI workflow steps, and eliminates the need for dual data entry in MRO's application and the EMR. Clients using the integration have reported time savings of up to 50 percent in logging requests, and selecting and aggregating patient records for release.
MRO's team continues to devote time and financial resources towards making this and other EMR integrations possible, to help our partners derive the maximum value from their HIT investments. Learn more about MROeLink by watching the video below.
Read More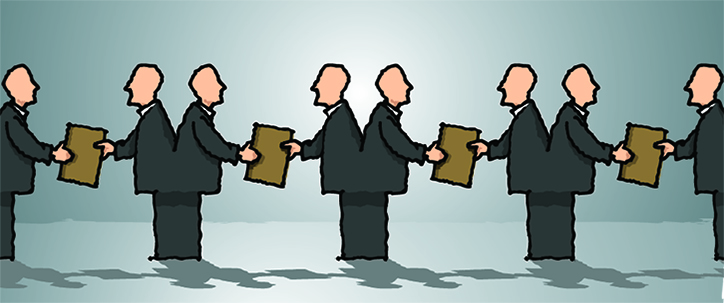 HIM: The Original Health Information Exchange(rs)
It wasn't that many years ago that medical records consisted of reams of paper files stored in rows and rows of cabinets. It's also not that long ago that fax machines were considered "high-tech." Although the technology was lacking by today's standards, health information management (HIM) professionals led initiatives around the exchange of patient health information, ensuring compliance with federal, state and facility patient-privacy policies.
Fast forward to today's HIM department, where patient charts are digitized and can be electronically transmitted in a matter of seconds using electronic medical records (EMRs) and Health Information Exchanges (HIEs). Technology has changed the face of health information exchange, bringing about both challenges and opportunities that require HIM leaders to evolve their roles and keep pace with changing times.
For example, electronic exchange technologies are typically implemented by the information technology (IT) department without involving HIM professionals until late in the process. It is essential, however, that collaboration with HIM leaders occurs early in these HIE initiatives and throughout the process so they can offer their expertise and knowledge of best practices in information governance, workflow and compliance.
One way to get involved early in the planning and implementation is for HIM leaders to present potential exchange solutions to their IT peers. This requires research and education (and gumption). Often, a Release of Information (ROI) partner can be a great resource. A technologically advanced ROI company, in particular, likely offers some "HIE-like" solutions such as:
Direct Secure Messaging as a fax replacement
esMD delivery to the Centers for Medicare & Medicaid Services for audits
Social Security Administration interfaces for automating the disability claims process
With their HIM expertise and technology capabilities, your ROI partner can equip you with solutions, help raise your levels of influence, and assist in bridging the gap between HIM and IT. By opening the doors of communication and collaboration, the departments can work as a team to electronically exchange health information in a secure, compliant and efficient way.
Check out our white paper, Finding the Right Partner for Integrated HIE, which discusses the benefits of partnering with a PHI disclosure management firm to implement HIE-based solutions.
For even more information, please attend our session on HIM and IT collaboration around HIE at the 87th Annual AHIMA Convention in New Orleans. We will be presenting with Susan Carey, MHI, RHIT, PMP, who serves as System Director for HIM at Norton Healthcare, at 10 a.m. on Wednesday, September 30, 2015. Look forward to seeing you there!
Read More